I am Aleksandar Celar, freelance professional photographer and videographer, curently living in Barcelona, Spain. I am also assistant professor and lecturer in the fields of video and photography at faculty for Design and multimedia at University Donja Gorica in Montenegro. I have M.A. diploma in Interactive media and 20+ years of professional experience in shooting and post production of video and photo content. I sharpen my teaching skill lecturing at Metropolitan University for many years.
Learn from PRO
---
On this courses we are learning all about the basics of photography, from the way your camera works to composing your photos in camera to editing them in digital darkroom. Also, we can do advance courses if you want to upgrade your photography skill to next level. Courses can be for group, 1 on 1, or workshops for particular field of photography like portraits, studio, Photoshop etc. All courses can be short or long term, depends of you time and needs.
Learn from PRO >
Guided Tours
---
Barcelona guided photo tours are for beginner to advanced level photographers who are passionate about photography, enjoy travel, and prefer learning new techniques in the field and not in the classroom. During the 3 hour tour, we will explore old city, learn about architectural photography as well as travel photography, and try to make some documentary photos. If you really want to explore Barcelona more deep, we can go to all day long tour. Tour start at Arc de Triomf, down to Gothic quarter and finish in Marina.
Guided Tours >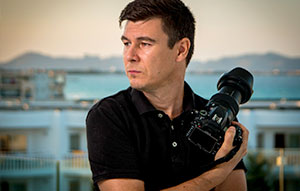 Hire me
---
For photography
10 reasons why you should hire me. OK, I could just line list of reasons like, I have high quality equipment, I am talented… But you already assuming that professional photographer have all those things. Continue reading to find more about me and what are "other" the reasons to hire me.
Read more >>
For videography
Camera, sound and light crafts are the basics of every video. But more than that, narrative, storytelling and truly understanding of your vision and needs are on firs place to me. I can help you to visualized yours ideas from concept, capturing videos, editing and publishing.
Read more >>
Testimonials
---
"Mr. Celar was a wonderful teacher of mine and a guide in the years I was interning for photography and video production. He uncovered his tools of the trade through practical example and monitoring my methods, conveying the heart of the subject. Learning under him is an honour that teaches you magic, and brings out the greatest angles of visual media out of you - the ones that stay with you."
Sincerely,
Nikola Gotic
---
"It was a great experience to be a student with Aleksandar as professor. I got a lot of knowledge from him. He is a very inspiring teacher. I acquired some of his abilities for making artistic and technical decisions related to the image."
Best regards,
Nikola Vesic
---
"What makes Aleksandar so different from the other professors is the way he is able to inspire a student. While his expertise with the practical is immense, during his lessons you get so much more. You will learn photography and videography, while also learning new ways of thinking about art and life in general."
Regards,
Stefani Ilic